Upgrading petrochemical residues with our Multiple Hearth Furnace technology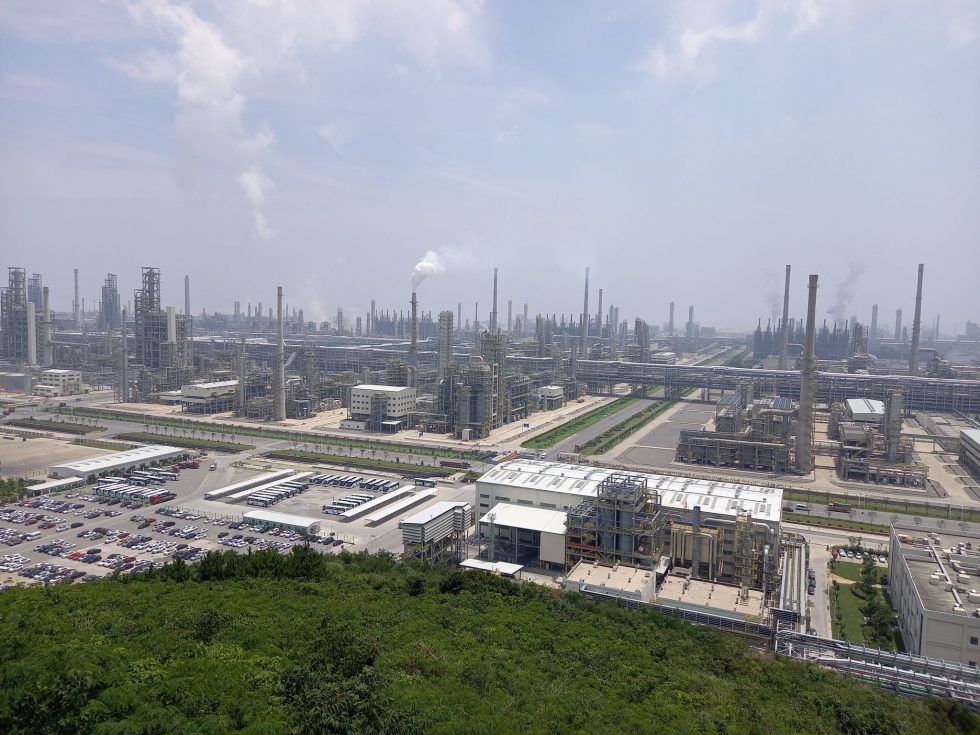 The 2 Multiple Hearth Furnaces (MHF) 'Soot Ash Recovery Units' (SARU) supplied to the operator of China's largest refinery, Zhejiang Petroleum & Chemicals Corporation (ZPC), allow to keep thousands of tons of hazardous residues from waste disposal operations, all while recovering the valuable metal oxides it contains.
Indeed, John Cockerill's two SARU MHFs, via a combined pyrolysis-incineration treatment, allow for the recovery of high-value vanadium, molybdenum, nickel and iron oxides present in the filtration sludges resulting from the washing of the petrochemical syngas obtained by the gasification of the heavy crude oil fractions.This very wet sludge is composed of very fine soot particles mixed with a mineral or ash residue containing heavy metal oxides.
ZPC, controlled by private chemical group Rongsheng Petrochemical Co. Ltd., operates an 800,000 barrels-per-day refinery in the eastern port of Zhoushan, China. This site of superlatives rose from the ground in only 6 years and its expansion is still in progress. The two MHFs currently under construction in this refinery, can process up to 66,000 tons/year of soot filter cake, with an inlet capacity of approx. 4,166 kg/h or 100 tons/day by furnace. With reactors that have a diameter of approximately 7m, a total height of approximately 25m and count 15 stages (hearths), they are amongst the biggest pyrolysis installations ever built for the petrochemical industry.
Partnership with a leading Chinese hazardous waste management technology and service provider
Developped in partnership with the world's leading petrochemical Group, Shell in the early 90's, John Cockerill's MHF furnaces for SARU applications feature an optimized thermal process allowing for the best recovery of precious metal oxides all while addressing the many technical constraints of the incoming feedstock, ranging from extremely high moisture rates of up to 85% and solid carbon content of over 50%, to an ultra-fine particle size with the risk of dust carry over throughout the thermal reactor, and the high concentration of heavy metal oxides which call for a strict temperature control to prevent them from melting and thus avoid their harmful deposit on the furnace components.
To develop both, the Chinese and South-East Asian markets, John Cockerill Environment has partnered with QYEPT (Beijing QiYue Environmental Protection Technology Co., Ltd.), a leading Chinese hazardous waste management technology and service provider, for the commercialization and construction of its MHFs since 2019. Supported by SHELL with technical consultancy services for the upstream and downstream portions of the SARU process, QYEPT acts as an EPC for the construction of the two SARU for ZPC.
ZPC uses our specifically designed SARU MHF technology for the first time
While ZPC uses our specifically designed SARU MHF technology for the first time, John Cockerill Environment's Solids & Waste Business Line already supplied 11 similar industrial furnaces to three other giants of the Oil & Gas industry, namely: SHELL in the Netherlands, ENI in Italy and ARAMCO in Saudi Arabia.
In the context of environmental transition and circular economy, helping to support both the treatment of petrochemical waste and the responsible recovery of precious metals with our technologies is fully in line with John Cockerill's ambition to provide solutions to the needs of our time.