Renovation of the "La Scierie" pumping station in Cuesmes (Belgium): operations at 42 metres depth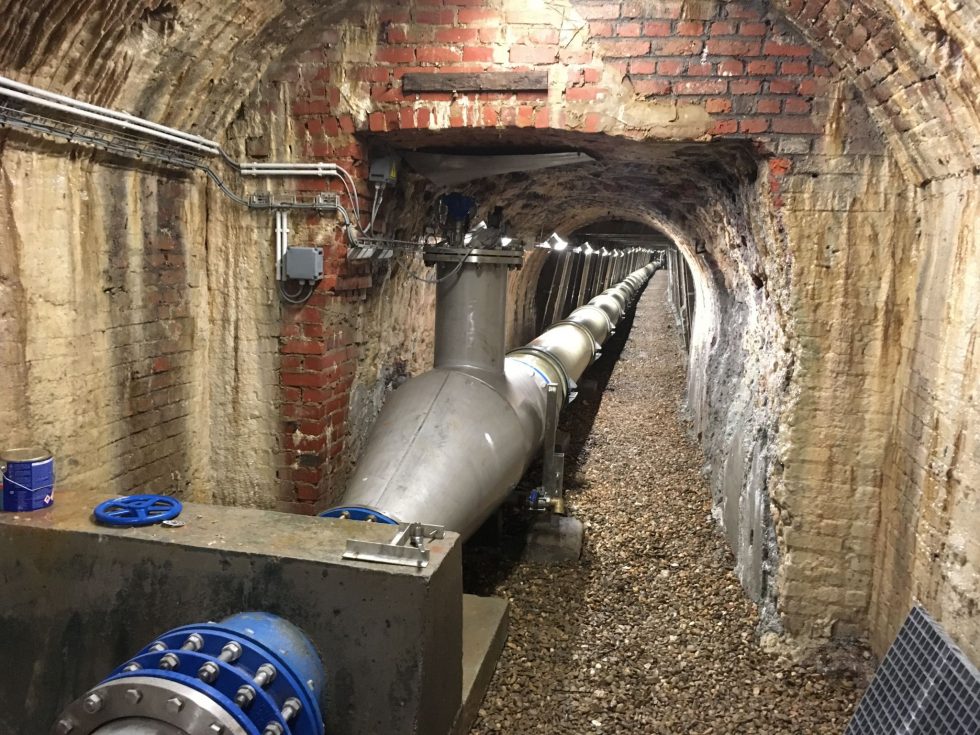 Plunged to a depth of 42 meters, this installation is vital in the long-term fight against flooding in a region marked by its mining activity.
An extraordinary project aiming at renewing an installation essential in terms of flood control: at a depth of 42 meters, in the heart of an IDEA (intercommunal cooperation body) pumping station, John Cockerill Environment' experts renovated the water collection facilities located in the underground galleries called "la Scierie" at Cuesmes close to the city of Mons in Belgium.
The pumping station lowers the level of the water table by evacuating the surplus groundwater through draining ditches located in the chalk massif at a depth of 42 m. In the event of a prolonged stoppage of the installations, the center of the village of Cuesmes would be flooded in no longer than 15 minutes. Maintaining the pumping of the groundwater table was therefore of paramount importance throughout the intervention of our teams at great depths and over the entire height of the well. A coordination challenge brilliantly addressed by our experts!
Thus, at the bottom of the well 42 meters below our feet, our technicians installed a new 90 kW submersible pump for pumping runoff water, a new discharge pipe and valves. The intervention also involved the replacement of cast iron pipes, underground and in the existing building, and of a 1 m³ anti-water hammer balloon at the bottom of the well. In addition, our teams carried out the adaptation of the GLVP (general low voltage panel) and the tertiary electrical work in the existing building, as well as related to the lighting and ventilation in the main and emergency galleries. Not at last to secure these 100-meter-long galleries spread over two levels.
The water pumped via the "La Scierie" facilities in Cuesmes, i.e., more than 3,200,000 m³ per year, is recovered by the SWDE (company responsible for water production and supply in Wallonia) and is to secure the water supply for industrialists in the Ghlin-Baudour region. Our teams carried out these complex operations for the company DENYS (specialized in general construction works), which we thank for having once again called on our expertise.
Modernizing infrastructure while ensuring the continuity of pumping in order to protect the region from flooding, this project is fully in line with John Cockerill's desire to offer solid and resilient infrastructures to end users, businesses and public authorities.