A new vertical plate pickling line for renowned Chinese stainless steel producer TISCO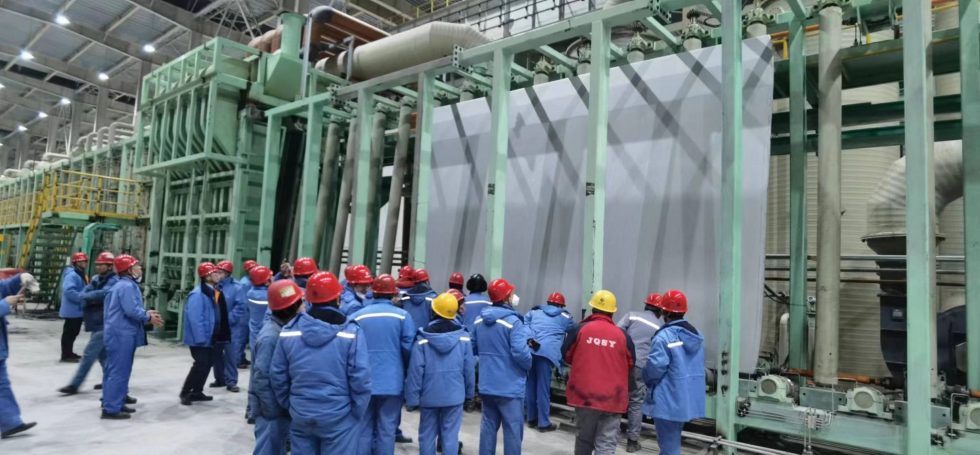 A proud achievement: the new Plate Pickling Line designed and supplied by John Cockerill Industry for one of our long lasting clients and worldwide renowned stainless steel producer, TISCO in Tianjin (China), has recently been erected and commissioned by our teams.
With an impressive length of 236 meters, this heavy-duty installation has been designed and supplied by our German specialists in chemical metals processing, John Cockerill UVK. The new Plate Pickling Line functions in continuous mode and can process steel plates with a size of up to 4m x 12m.
The automatic roller and hydraulic tilting tables are to lift the stainless-steel plates to be processed in a vertical position in order to enable their automated vertical transport throughout the entire line. A shot blaster treatment is to reduce the pickling time and thus the length of the line, leading to a reduced CAPEX. In the process section the plates undergo a treatment that is composed of several rinse, as well as a pickling and a passivation section before being dried and inspected prior to exiting the line.
The dedicated exhaust purification and DeNOx systems provide the necessary air pollution control and allow for the safe operation of the line.
John Cockerill is proud to be one of the few suppliers of such type of installations in the world. Installations that are calling for both a solid knowledge in mechanical and chemical engineering, as well as automation.