Our E-ChloPure containerized electrochlorination unit allows YARA to produce NaOCl disinfectant by electrolysis of sea water in situ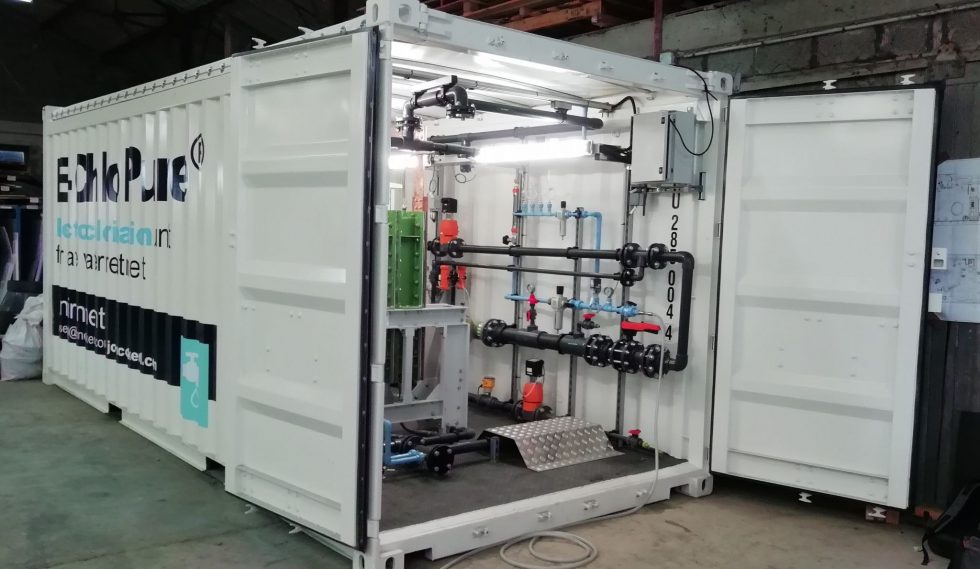 Most of the coastal industrial sites using seawater suffer from the proliferation of algae and mollusc in their pipes. To avoid biofouling, operators inject bleach into their pipeworks. Besides being expensive in terms of operating cost, this solution is also exposing these companies to chemical risks for both the personnel handling the products and the environment, not to mention the unfavorable carbon footprint associated with the deliveries of the reagents by tanker trucks.
Our E-ChloPure solution provides a virtuous alternative for all industries located close to the sea and committed to decarbonizing their production sites. This seawater electrolysis solution, in its containerized version, offers an active chlorine production capacity of 8 to 24 kgCl /h per standard unit, for water flow rates up to 24,000 m3/h per unit. In "Plug & Play" mode, the system is fully preassembled and tested at the factory. The containerized skid design eliminates the need for a building to house the equipment, greatly reducing the installation time.
In addition to being a proven, economical and responsible solution, the system's simplicity of use seduced the French industrialist YARA. Indeed, the technology does not require any acid for the descaling of its electrodes, the cleaning being done with compressed air! This design eliminates the need of storage equipment or acid injection and makes E-ChloPure an eco-responsible system with an improved service life.
E-ChloPure fully illustrates John Cockerill Environment's and Yara's collaborative commitment to the ecological transition.
For more information on the complete range of our modular electrochlorination systems, suitable for all types of industrial installations: ​​​​​​​https://johncockerill.com/en/environment/water-treatment/specific-solutions/electro-chlorination/