France's Minister for Energy Transition visits John Cockerill's gigafactory in Alsace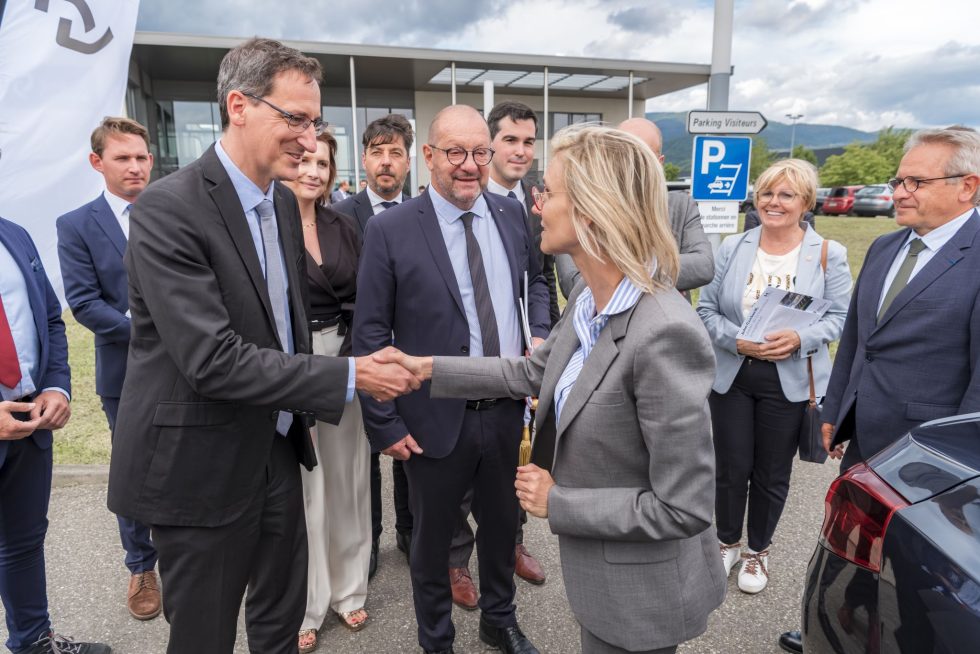 John Cockerill was honored to receive the French Minister for Energy Transition this Thursday, August 31, 2023 in Aspach-Michelbach: Agnès Pannier-Runacher, accompanied by a delegation of French State representatives, discovered our European electrolyzer production base.
The visit comes at a time when France is stepping up its support for low-carbon hydrogen production, and the French Minister for Energy Transition Agnès Pannier-Runacher intends to massively accelerate the production of decarbonized energies in France. As a world leader in energy transition and the manufacture of electrolyzers, John Cockerill presented its diversified activities, which contribute to a low-carbon and safer world.
Led by Group CEO François Michel, John Cockerill's teams showed the Minister and her delegation around the plant and its various equipment. The Gigafactory will be Europe's first manufacturing plant entirely dedicated to low-carbon hydrogen, with an annual electrolyzer production capacity of up to 1 GW. In addition to meeting the hydrogen needs of numerous industrial and transport players, the production of these electrolyzers in France will have a positive impact on employment, with around 300 jobs eventually created in the ecosystem of this new value chain.
The meeting provided an opportunity to illustrate John Cockerill's world leadership in hydrogen, to explain the rapid global industrial deployment of the sector, and to insist on the necessary technological developments in the field. Our representatives also pointed out the creation, with Technip Energies, of Rely, a new company offering integrated green hydrogen solutions to speed up industrialization.
The Aspach-Michelbach site was chosen for the production of essential components for the electrolyzers that will produce low-carbon hydrogen in Europe, as close as possible to the needs of industry. It is also home to John Cockerill's environmental activities, in particular the design and manufacture of technological solutions for air pollution control and odor treatment. With energy and ecological transitions at the heart of John Cockerill's commitment, the presentation ended with a spotlight on our solutions serving territories, such as nitrogen stripping for fertilizer production, pyrolysis and digestate recovery, and our new LysoThane™.
As an active partner of France in achieving its ambitions for decarbonizing the economy, energy sovereignty and reindustrialization, John Cockerill is delighted to have been able to open the doors of its Gigactory to the Minister and members of the delegation, and thanks them for the rich exchanges that enlivened this visit.