CMI Energy, Belgium and Larsen & Toubro, India to supply small HRSGs for South East Asia & Middle East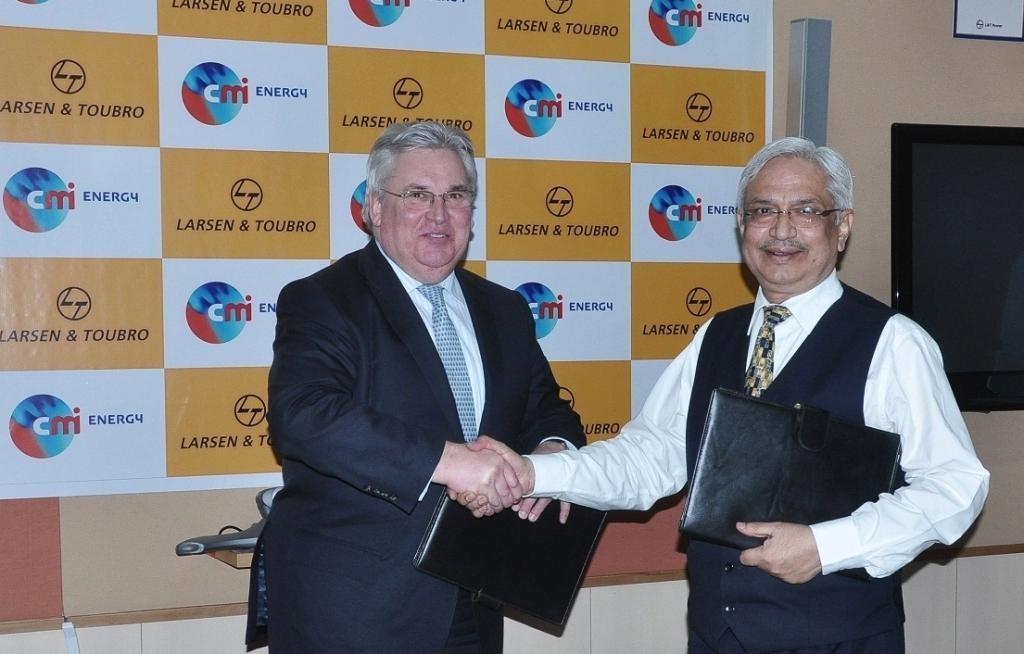 CMI Energy and its Indian licensee Larsen & Toubro (L&T) signed an agreement for extension of L&T's licence territory to manufacture and sell small Heat Recovery Steam Generators (HRSGs) installed behind gas turbines below 80 MW to South East Asia and the Middle East.
Under this agreement, Larsen & Toubro will have the exclusive rights to apply CMI technology in these markets for manufacturing and selling single wide HRSGs installed behind gas turbines below 80 MW (ISO Rating). It covers gas turbine models such as MS6001, LM 6000, SGT-800, LM2500 and GE frame 5 and 6.
This agreement was signed at L&T Knowledge City, Vadodara (India) by Mr Pierre Melin, CMI Energy President, and Mr Shailendra Roy, Larsen & Toubro Whole-time Director and Senior Executive Vice President (Corporate Affairs & Power).
Heat Recovery Steam Generators are used widely in combined cycle power plants & for cogeneration applications in process industry. In 1991, CMI Energy awarded an exclusive license to Larsen & Toubro to design, manufacture and supply vertical HRSGs in India. This license was further extended in 2008 to include horizontal HRSGs. L&T, thus, has been successfully applying the CMI technologies for steam generators for more than 20 years now. Besides these licence agreements, CMI Energy and L&T have also supported each other on specific projects for engineering, sourcing, training and marketing.
Through the new signing, the two companies have agreed to extend their collaboration to a new segment: the development and marketing of small size steam generators.
These small HRSGs are typically modular design with higher prefabrication level. L&T and CMI Energy will jointly develop/improve the existing CMI design to suit the client requirements in the extended territory. This will allow CMI and L&T to improve their competitiveness in the regions.
Over the past decade, the market for small HRSGs represents 24% share in terms of number of units sold worldwide. This market is poised to grow by 3.5% per year over the next decade. CMI Energy and L&T intend to be key players in this market by attracting a minimum 10% market share.