'Arc Majeur': the work has begun!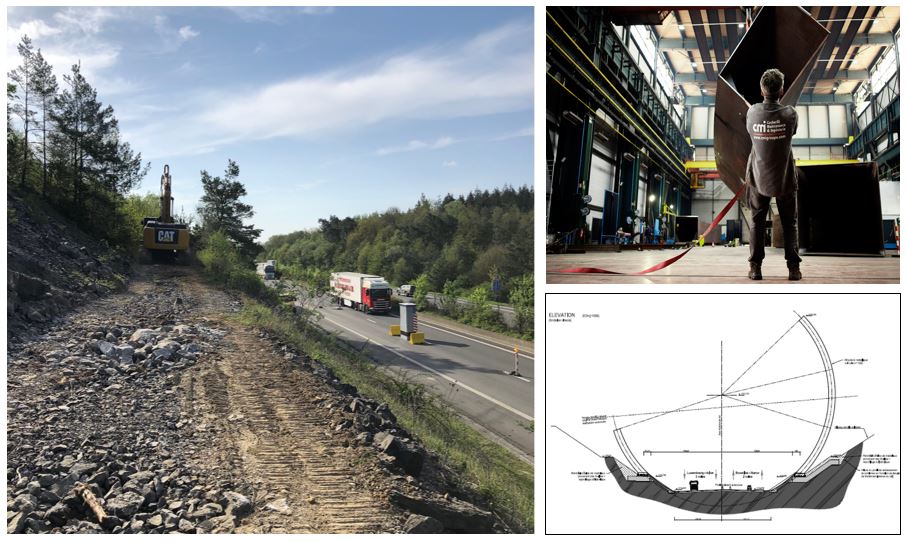 The earthworks and foundations necessary for the installation of the 'Arc Majeur' have begun along the E411 motorway in Lavaux-Saint-Anne (Belgium).
The 'Arc Majeur' is a collective project led by the John Cockerill Foundation, which brings together experienced technical service providers, but also corporate sponsors and institutional partners.
The monumental work of the artist Bernar Venet was entirely realized in our workshops in Seraing, within the Welding Expertise Centre. It is made up of two arches.
Located on one side of the highway, the main arch will culminate at 60 meters. A smaller arch, 20 meters high, will be placed opposite each other. The project will frame the E411 Namur-Luxembourg motorway, at kilometer marker 99.
The large arch consists of three sections of about 20 meters each. These will be transported on site by special road convoy and assembled together using flanges hidden inside the boxes. A peripheral welding will then be carried out at the junctions in order to definitively assemble the different sections. The small arch is transported in a single piece, fully finished.
The arches will be supported by a concrete foundation laid on the natural ground. Its implementation requires a prior excavation of ±1000m³ in the rock. Its dimensions are impressive: 17 m long, 3 m wide. Its thickness of 1.60 m increases to 3.50 m to house a technical gallery placed under the work, to provide the possibility of a visual inspection of the anchors and, if necessary, to allow their replacement.
The assembly of the work will be carried out on site at the end of the summer. The official inauguration is scheduled for the fall.